Trolley Retarder Proofer
SLDC-2RB
The Sheang Lien Proofer / Retarder proofer enables the user to prepare dough for baking well in advance often for next day's production. Throughout the retarding process product is stored within the unit and maintained at an optimum temperature and humidity. The unit has a timer that can be set so product is proved and ready for baking for next day.

The enclosures are made of all stainless steel, insulated with hydraulic injection polyurethane foam.
The high-efficiency compressor with overload and delay-start protection saves energy and cools swiftly.
The condenser is designed with anti-rodent and anti-dust mechanism.
Rapid humidification system prevents residue water to secure hygienic and sanitary cavity.
While retarding, the high humidity conditions prevent the problem of hard shell and dry dough.
Intelligent electric automatic control system achieves precise control.
Features
1. Stainless steel exterior and interior.
2. Foamed insulation in walls ceilings and doors.
3. Rapid responding air-wash heat and humidity system.
4. Heavy duty welded S/S hinges.
5. Refrigeration components compatible with R134A refrigerant.
6. Includes R-22 condenser standard.
7. Dual purpose, provides both proofing and retarding.
8. Evaporators sized for high humidity levels, prevents drying.
9. Interior bumpers protect interior walls from damage.
10. Refrigeration system sized for rapid pull down.
11. Digital set Temperature, Humidity and Time.
12. PID type control for rapid accurate response without overshoot.
13. Operates in individual modes or automatic mode.
14. Intelligent electronic and automatic control system.
15. 24H timer multiple section is applied. It will automatic refrigeration and fermentation changer. To avoid mistake of manual time count.
16. To maintain same temperature device by gradually refrigeration and fermentation system.
17. Precision humidity control it will keep dough with high humidity to prevent dryness of the flour dough.
18. Apply the import high efficiency compressor. Energy saving and fast cooling.
19. Heavy duty heater is adopted in order to prolong the using life.
20. All AISI-SUS304 stainless steel Outer casing and inside casing. Hygienic and easy to clean.
Specification
Chamber: Fixed-Shelves (Two Door)
Rack: 2 Racks
Capacity: 36 Trays
Tray Size: 400 x 600 or 460 x 720mm
Cool Range: 1°C ~ 18°C ~ 35°C
Voltage: 240V / 50HZ
Heater Power: 2 KW
Compressor Motor Power: 750W / 1.0HP
Dimension: L 1240 x W 900 x H 2110 mm
Net Weight : 200 KG
Best Sale
Trolley Retarder Proofer | Bakery Equipment | Catering Equipment Supplier - SHEANG LIEN
Sheang Lien Industrial Co., Ltd., since 1997, is one of the Trolley Retarder Proofer | bakery equipment suppliers based in Taiwan.
Commercial bakery and catering equipment built with CE certification and ERP, PDM, SOP management systems, including dough mixers, planetary mixers, spiral mixers, dough sheeters, deck ovens, bread slicers, rotary ovens, proofers, dough dividers, dough rounders, etc.
SHEANG LIEN has been offering customers high-quality bakery equipment & catering equipment, both with advanced technology and 32 years of experience, SHEANG LIEN ensures each customer's demands are met.
View our quality products
Bread Slicer
,
Upright Freezer
,
Upright Chiller
,
Workbench
,
Deck Oven
,
Dough Divider
,
Flour Shifter
,
Cooking Mixer
,
Planetary Mixer
,
Proofer
,
Rotary Oven
,
Spiral Mixer
,
Dough Moulder
,
Dough Rounder
,
Dough Sheeter
,
Deep Fryer
,
Puff Machine
,
Steamer
and feel free to
Contact Us
.
---
Hot Products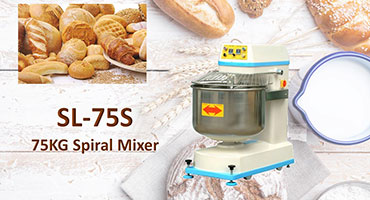 Spiral Mixer
We have brought extensive knowledge to its high quality mixers in the past 30 years.
Read More