Spiral Mixer
Dough Mixer
The main function of the spiral mixer is to gently mix bread dough, allowing it to develop the proper gluten structure, while not overworking the dough. This is achieved because the bowl of the mixer rotates as the spiral hook is spinning and kneading the dough. The benefit to this action is that the spiral hook is kneading only a portion of the whole dough mass at a given time. This keeps friction heat low, providing a more homogeneous mix.

Typically, this type of mixer does not have interchangeable attachments. Most commonly used for mixing bread dough, spiral mixers are capable of handling a variety of different dough types. This includes very stiff dough with low hydration levels; and high hydration dough types such as ciabatta. Some bakeries also expand their machine's production purpose beyond the scope of bread. Some examples include blending together pie dough as well as mixing scones and biscuits.
---
Best Sale
Over 30 Years Spiral Mixer For Kitchen & Bakery | SHEANG LIEN
Located in Taiwan, Sheang Lien Industrial Co., Ltd., since 1997, is a Spiral Mixer | bakery and kitchen equipment supplier. Their equipment has been sold in over 60 countries.
Commercial bakery and catering equipment built with CE certification and ERP, PDM, SOP management systems, including dough mixers, planetary mixers, spiral mixers, dough sheeters, deck ovens, bread slicers, rotary ovens, proofers, dough dividers, dough rounders, etc.
SHEANG LIEN has been offering customers high-quality bakery equipment & kitchen equipment, both with advanced technology and 32 years of experience, SHEANG LIEN ensures each customer's demands are met.
View our quality products
Bread Slicer
,
Upright Freezer
,
Upright Chiller
,
Workbench
,
Deck Oven
,
Dough Divider
,
Flour Shifter
,
Cooking Mixer
,
Planetary Mixer
,
Proofer
,
Rotary Oven
,
Spiral Mixer
,
Dough Moulder
,
Dough Rounder
,
Dough Sheeter
,
Deep Fryer
,
Puff Machine
,
Steamer
and feel free to
Contact Us
.
---
Hot Products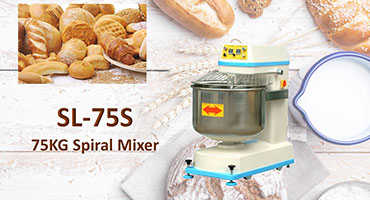 Spiral Mixer
We have brought extensive knowledge to its high quality mixers in the past 30 years.
Read More