SL-390 Multi-Function Filling Machine / Cake Depositor Solution news
2018/12/13
SHEANG LIEN
Multi-Function Cake Filling Machine/ Cake depositor: Stainless-made machine body complies with hygiene requirements; easy to clean and operate, convenient to maintain. The extruding rollers are treated with special coat to prevent adhesion of batter.
The number and size of outlet nozzles can be customized for various bakery applications.
There are two types of filling batter, one is by a row of individual point filling, and the other is a continuous filling on conveyor belt surface.
When the baking pan is filled with batter, it is available to set the auto-return by putting the baking pan in a single direction, moving forward for baking pan collection. It can also be operated by one person to return reversely.
Use "man-machine interface dialog box" treatment for control panel, and it's able to memorize 150 operating modes.
Baking pan conveyor belt can move up and down to reduce adhesion - will lead no antifoaming.
Function: long loaf (fruit cake), round (cup), Swiss roll 3 types of products, 50 memories for each
Available for filling chiffon cake, sponge cake, high cream cake, puff crust, cupcake and birthday cake
Filling Quantity: continuous filling, available to fill 6 to 9 baking pans / min continuously

Note: Unable to make products with granule.
Specification
Machine Dimensions: 1510 x 1000 x 1400mm
Capacity: 1080 Tray/hr
Packing Dimensions: 1540 x 1200 x 1500mm
Horse Power: 1-1/2 HP 800W
N.W./G.W: 250/320㎏
VOCT: 3∮220V / 380V /415V , 50Hz / 60Hz
Compressor used: 4kg/cm2 (air compressor prepared by user) (220V / 380V /415V) 50Hz / 60Hz ,3 O PH
Accessories: cupcake filling nozzle x1   O 6,8 filling nozzle x1  Level nozzle for Swiss roll x1
Movies






Best Sale
SHEANG LIEN SL-390 Multi-Function Filling Machine / Cake Depositor Solution news Introduction
Sheang Lien Industrial Co., Ltd. is Taiwan supplier and manufacturer in Food Machinery Industry. SHEANG LIEN has been offering our customers high quality Planetary Mixer, Spiral Mixer, Dough Sheeter, Deck Oven, Bread Slicer, Rotary Oven, Proofer, Dough Divider, Dough Rounder since 1997. With both advanced technology and 32 years experience, SHEANG LIEN always make sure to meet each customer's demand.
SHEANG LIEN welcome you to view our high quality products
Bread Slicer
,
Upright Freezer
,
Upright Chiller
,
Workbench
,
Deck Oven
,
Dough Divider
,
Flour Shifter
,
Cooking Mixer
,
Planetary Mixer
,
Proofer
,
Rotary Oven
,
Spiral Mixer
,
Dough Moulder
,
Dough Rounder
,
Dough Sheeter
,
Deep Fryer
,
Puff Machine
,
Steamer
and feel free to
Contact Us
.
---
Hot Products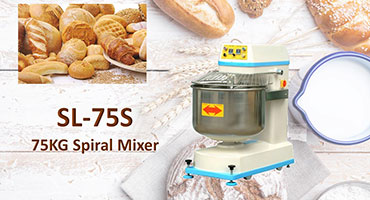 Spiral Mixer
We have brought extensive knowledge to its high quality mixers in the past 30 years.
Read More