Semi-Auto Dough Divider & Rounder
SL-36B
Sheang Lien Semi-Automatic Dough Divider & Rounder SL-30A, 30B, 36A, 36B offers superior rounding, durability and increase production for bakeries and factory operations. The machine divides and round dough with ease, permanent lubrication to protect transmission, machine head can be tilted for easy cleaning of knives.

This allows you to create different types of roils with varying weight ranges and sizes in the same machine as well as facilitate easier cleaning and maintenance. It has 5 different types of machines with its capacity in 22pcs, 30pcs and 36pcs dough plate.
Features
1. Machine Base Design: Larger base can be helped to operate with more stability and easy operation.
2. Machine Stand Design: With a bigger stand inside is easy for fixing and convenient for installation.
3. Rounder Design: Bigger rounding diameter's design can be faster rounding speed and good rounding pieces.
4. Rounding Tray Design: With a special treatment is to eliminate the situation of static electricity.
5. Eccentric Wheel Design: Through professional instrument revision, running status is stable.
6. Safety Standard: Machine manufactured according to CE regulations.
Specification
Power: 1PH / 3PH, 1HP, 220V, 50/60 HZ
Dough Range for SL-30B: 40 - 120 grams, 30 cuts
Dough Range for SL-36A: 10 - 40 grams, 36 cuts
Dough Range for SL-36B: 30 - 100 grams, 36 cuts
Net Weight: 330 kg
Dimension: L 640 x W 780 x H 2050 mm
Best Sale
Semi-Auto Dough Divider & Rounder | Bakery Equipment | Catering Equipment Supplier - SHEANG LIEN
Sheang Lien Industrial Co., Ltd., since 1997, is one of the Semi-Auto Dough Divider & Rounder | bakery equipment suppliers based in Taiwan.
Commercial bakery and catering equipment built with CE certification and ERP, PDM, SOP management systems, including dough mixers, planetary mixers, spiral mixers, dough sheeters, deck ovens, bread slicers, rotary ovens, proofers, dough dividers, dough rounders, etc.
SHEANG LIEN has been offering customers high-quality bakery equipment & catering equipment, both with advanced technology and 32 years of experience, SHEANG LIEN ensures each customer's demands are met.
View our quality products
Bread Slicer
,
Upright Freezer
,
Upright Chiller
,
Workbench
,
Deck Oven
,
Dough Divider
,
Flour Shifter
,
Cooking Mixer
,
Planetary Mixer
,
Proofer
,
Rotary Oven
,
Spiral Mixer
,
Dough Moulder
,
Dough Rounder
,
Dough Sheeter
,
Deep Fryer
,
Puff Machine
,
Steamer
and feel free to
Contact Us
.
---
Hot Products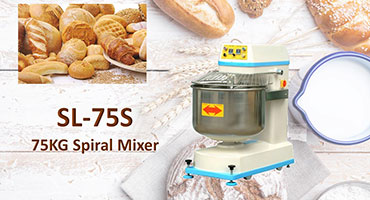 Spiral Mixer
We have brought extensive knowledge to its high quality mixers in the past 30 years.
Read More