GAS Deck Oven Two Tray Series
SLG-3006
The Modular Gas Deck Oven is a fully automatic temperature-control & ignition baking solution. Equipped with the CE approval control unit, the oven provides superior features of uniform heat distribution, energy saving competence, and multiple safety mechanisms. Enhanced by its sleek appearance, this oven is not only a truly green oven, but also a fashion device to enjoy pleasantness of baking.
Features
1. Energy Saving Oven
The regulated gas mixed with injected air generates blue flames that make the oven to reach setup temperature in the short time. After reaching the desired temperature, the burners do not have to work all the time and gas is consumed only several seconds to offset heating loss. Furthermore, because the oven is installed with compact low-thermal-conductivity insulation and precise digital temperature controller, heat retention of the oven is excellent and over-heating is greatly eliminated. These distinguishing features greatly reduce unnecessary energy wasting, saving money for the owner.

2. Multiple Safety Mechanisms in Compliance with CE Standards
Fault-component self-detection.
The central control unit will detect its components before ignition. If a component is damaged or malfunction, the unit will stop working and notify the operator via the safety alarm.

3. Flame Sensor Safety Device
The control unit is capable of detecting whether flames are normally ignited, there is incompletely combustion, and input supply is out of gas. After 6 second feedback detection, the unit will stop all controlling and notify the operator via the safety alarm.

4. False-stop-heating Safety Detection
If the temperature controller turns off the heating process, but the burner is still firing because of possible gas valve malfunction or gas piping leakage. The control unit is able to detect this situation and notify the operator by the safety alarm.

5. High-rating Parts and Enhanced Control Unit Protection
The central control unit is composed of selective electronic components that require higher rating and can withstand harsher environment. The components are fully covered and sealed with protection glue and the whole controller board is further guarded in the plastic enclosure. These designs prevent possible damages and ensure normal operations in the high-heat and humid environment.

6. Double Solenoid Valves Safety Guard and Durable Piping System
Each burner piping is all controlled by two gas-grade solenoid valves. By doing so, this will double strengthen its working life and safety. Furthermore, all internal or external piping is used and connected with metal fittings to prevent possible damages such as collision and animal gnawing.

7. Precise Temperature Control and Uniformity in Baking
Independent, operator controlled top & bottom gas burners and the thermodynamic-design chamber make an uniform heat distribution over the entire chamber while providing precise temperatures. The resulting thermal condition of the chamber uniformly transfers the heat to the products. Top and bottom digital thermostats control each set of burner, allowing operators to determine the ratio of top vs. bottom heat and offering infinite possibilities to adjust the oven for baking every conceivable product.

8. Heavy-Duty and High-Precision Gas Burner
The gas burner is made of the seamless stainless steel tube fabricated by five axes bridge type machining center. The high-grade material offers robust structure to prolong burner working life. Ultra-tight tolerance machining is capable of having every gas oven to generate quality and uniform flames.

9. Contemporary Signature Style
Broadly angle edges, large supervising windows, premium brushed stainless steel front, and powder-coated black door handles deliver modern and professional taste. An elegant graphic-wording panel, precise dial-control knobs, and symmetrical control units are designed to maximize functionality, visibility, and your ease of use.
Specification
Model
SLG-1002
SLG-2004
SLG-3006
Number of Deck
1
2
3
Number of Tray Per Deck
40 x 60 cm
2
46 x 72 cm
2
46 x 76 cm
2
Number of Tray Per Oven
40 x 60 cm
2
4
6
46 x 72 cm
2
4
6
46 x 76 cm
2
4
6
Size of Baking Chamber
Depth
827 mm (32.6")
Length
970 mm (38.2")
Height
200 mm (7.9")
Size of Oven
Depth
1120 mm (44.1")
Length
1460 mm (57.5")
Height
550 mm (21.7")
1725 mm (67.9")
1875 mm (73.8")
Size of Crated Oven
Depth
1220 mm (48.1")
Length
1560 mm (61.4")
Height
750 mm (29.5")
1925 mm (75.8")
2075 mm (81.7")
Approx. Net Weight
210 kg (463 lbs)
450 kg (992 lbs)
790 kg (1742 lbs)
Approx. Gross Weight
260 kg (273 lbs)
530 kg (1168 lbs)
890 kg (1962 lbs)
Approx. Gas Consumption (kg/hr)
0.25
0.5
0.75
Voltage
220V/110V 50/60HZ Single Phase
Approx. Power Consumption
185W
370W
555W
Maximum Operating Temperature
400°C / 752°F
Options & Accessories
Steam Generator
The steam generator absorbs recycle upward heat and generates strong steam while water is injected into the bottom cavity of the deck. Generated steam evenly disperse the entire baking chamber from air side tunnels. The steam generator does not consume any extra electric power and ensures rapid recovery.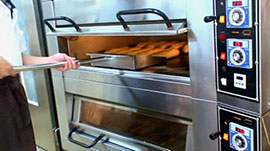 Stone Hearth
The stone is 2cm (0.8") thick and high-retention refractory material. These make whole heath can absorb much more heat and produce both a crispier bottom crust and more golden brown color for foods.
Best Sale
GAS Deck Oven Two Tray Series, Bakery Equipment, Catering Equipment Supply For Over 30 Years SHEANG LIEN
Sheang Lien Industrial Co., Ltd., since 1997, is one of the GAS Deck Oven Two Tray Series | bakery equipment suppliers based in Taiwan.
Commercial bakery and catering equipment built with CE certification and ERP, PDM, SOP management systems, including dough mixers, planetary mixers, spiral mixers, dough sheeters, deck ovens, bread slicers, rotary ovens, proofers, dough dividers, dough rounders, etc.
SHEANG LIEN has been offering customers high-quality bakery equipment & catering equipment, both with advanced technology and 32 years of experience, SHEANG LIEN ensures each customer's demands are met.
View our quality products
Bread Slicer
,
Upright Freezer
,
Upright Chiller
,
Workbench
,
Deck Oven
,
Dough Divider
,
Flour Shifter
,
Cooking Mixer
,
Planetary Mixer
,
Proofer
,
Rotary Oven
,
Spiral Mixer
,
Dough Moulder
,
Dough Rounder
,
Dough Sheeter
,
Deep Fryer
,
Puff Machine
,
Steamer
and feel free to
Contact Us
.
---
Hot Products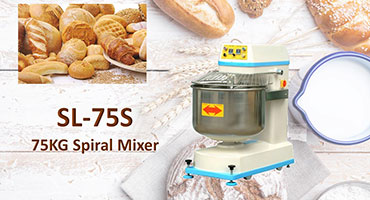 Spiral Mixer
We have brought extensive knowledge to its high quality mixers in the past 30 years.
Read More