Baguette Dough Moulder
SL-750
Baguette Dough Moulder SL-750 is suitable for all kinds of bread, from smallest to largest, especially for French bread. This machine is perfectly for making long loaf organization equally for each loaf. Mounted on a trolley, it can be supplied with a conveyor belt upon request. It also can be connected with the front- end production line equipment to perform the continuous production.
Features
1. New Style Design: Distance between roller pitch and moulding belt is adjusted by pressure type knob. It is easy to operate and with accurate moulding result by user demands.
2. 3pcs Rollers Design: Added third auxiliary roller makes dough feeding easily and even moulding quality.
3. Protective Device Design: As soon as the hopper of dough inlet is pressed by materials, machine will automatically stop operation. When front guard has been opened during operation, machine will stop automatically. Motor is designed with safety protective device. It will automatically stop running when machine is over loading in electricity.
4. Stable Machine Base: base structure is strong: the machine is stable and steady when is running.
5. Practical and Beautiful: machine design is beautiful and elegant. Machine base can be disassemble. It is easy to deliver without space occupied, with moveable casters, easy to move machine anywhere.
Specification
Power: 220V, 0.75Kw, 3 PH
Moulding Board Gap: 10 - 43 mm
Roller Gap: 2 - 12 mm
Squeeze Roller: 4 pieces
Dough Weight: 50 - 1000 grams
Capacity: 1200pcs/hour max.
Net Weight: 210 kg
Dimension: L 98 x W 120 x H 154 cm
Best Sale
Over 30 Years Baguette Dough Moulder For Kitchen & Bakery | SHEANG LIEN
Located in Taiwan, Sheang Lien Industrial Co., Ltd., since 1997, is a Baguette Dough Moulder | bakery and kitchen equipment supplier. Their equipment has been sold in over 60 countries.
Commercial bakery and catering equipment built with CE certification and ERP, PDM, SOP management systems, including dough mixers, planetary mixers, spiral mixers, dough sheeters, deck ovens, bread slicers, rotary ovens, proofers, dough dividers, dough rounders, etc.
SHEANG LIEN has been offering customers high-quality bakery equipment & kitchen equipment, both with advanced technology and 32 years of experience, SHEANG LIEN ensures each customer's demands are met.
View our quality products
Bread Slicer
,
Upright Freezer
,
Upright Chiller
,
Workbench
,
Deck Oven
,
Dough Divider
,
Flour Shifter
,
Cooking Mixer
,
Planetary Mixer
,
Proofer
,
Rotary Oven
,
Spiral Mixer
,
Dough Moulder
,
Dough Rounder
,
Dough Sheeter
,
Deep Fryer
,
Puff Machine
,
Steamer
and feel free to
Contact Us
.
---
Hot Products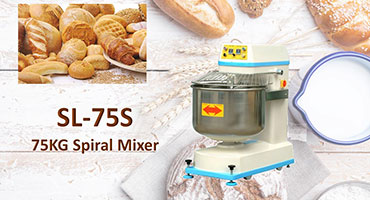 Spiral Mixer
We have brought extensive knowledge to its high quality mixers in the past 30 years.
Read More