Why Sheang Lien
Products for Life
Sheang Lien Principles
Sheang Lien was founded on the guiding principles of quality, innovation and design. These principles remain steadfast today at the very heart of our company and our products.
Quality
Producing only the very best
Thousands of Bakers & Chefs world-wide prize their Sheang Lien goods. This invaluable loyalty is well earned by our team of experts. They meticulously design and engineer all our products in Taiwan, using only the very best materials. We then test each goods fully and individually, so that we can deliver to you a durable kitchen partner you can cherish and trust.
Innovation
Working outside of the obvious
Our genuinely pioneering approach to creating products means we lead the field in constantly employing new technology and new techniques. We work outside of the obvious and explore right to heart of every possibility. This really sets our products apart and allows us to offer you the very best in truly specialized bakery & kitchen equipment.
Design
Elegant yet intuitive
Our Sheang Lien machine has an intrinsic, timeless elegance coupled with a uniquely intuitive operation. We design for looks as well as faithful efficiency that you will enjoy over the years.
Best Sale
Over 30 Years Bakery Equipment | Kitchen Equipment Manufacturer | SHEANG LIEN
Located in Taiwan, Sheang Lien Industrial Co., Ltd., since 1997, is a bakery and kitchen equipment supplier. Their equipment has been sold in over 60 countries.
Commercial bakery and catering equipment built with CE certification and ERP, PDM, SOP management systems, including dough mixers, planetary mixers, spiral mixers, dough sheeters, deck ovens, bread slicers, rotary ovens, proofers, dough dividers, dough rounders, etc.
SHEANG LIEN has been offering customers high-quality bakery equipment & kitchen equipment, both with advanced technology and 32 years of experience, SHEANG LIEN ensures each customer's demands are met.
View our quality products
Bread Slicer
,
Upright Freezer
,
Upright Chiller
,
Workbench
,
Deck Oven
,
Dough Divider
,
Flour Shifter
,
Cooking Mixer
,
Planetary Mixer
,
Proofer
,
Rotary Oven
,
Spiral Mixer
,
Dough Moulder
,
Dough Rounder
,
Dough Sheeter
,
Deep Fryer
,
Puff Machine
,
Steamer
and feel free to
Contact Us
.
---
Hot Products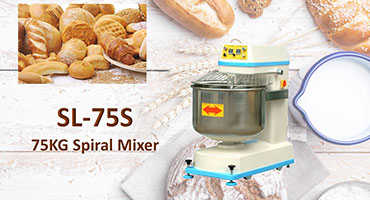 Spiral Mixer
We have brought extensive knowledge to its high quality mixers in the past 30 years.
Read More