Core Value
Sheang Lien Industrial is dedicated to meeting the unique needs of the clients we serve. When providing bakery equipment solutions to the markets we serve, we believe in four core values:
Better Than The Best
We decided that the goods we produce must be the best in the marketplace! Other manufactures focus on the speed, looking of their product, some want to be the cheapest on the market, some insist low energy use is the key factor, and others will paint it so it looks good in the kitchen. At Sheang Lien, we are most concerned about what comes out the ends of our goods. Great bakes are what make happy customers order again and again. Today our owners consider their mission to build the third central production line, with low energy use, high quality equipment, yet most importantly, with the best bakes.

Sheang Lien is pleased to design to help bakers connect with bakery equipment solutions that best work for their business. We've taken the mystery out of the purchasing process by reverse engineering your bakery equipment search process. We realize that our customers know their product best. By searching via your product type, you can rest assured that your bakery equipment selections are designed to work for your product.
Customer Service
You are the reason we exist! We are dedicated to serving your every need. This includes providing one-on-one consultations with experienced bakers capable of answering both equipment and production specific questions; industry leading warranty coverage; and highly experienced service technicians capable of diagnosing and servicing even the most complex issues.
Commitment To Excellence
We understand that there is no room for mediocrity when dealing with the lifeline of your business. Sheang Lien only sells industry leading equipment that is reliable and easy to maintain. We also offer ongoing technical support to the clients we serve. When you have a question, you never have to hesitate to contact us. In fact, when you purchase equipment from Sheang Lien Baking Equipment; we understand that this is just the beginning of our relationship.
Experience You Can Trust
Our consultants include experienced bakers. Our bakers come from all different backgrounds with experience ranging in scope from bakery shop owner to overseeing major production lines. Our team members have a combined total of over 30 years worth of baking industry experience. This includes being able to answer equipment and production related questions. Their expertise is provided as a complimentary part of the purchasing process.
Best Sale
Over 30 Years Bakery Equipment | Kitchen Equipment Manufacturer | SHEANG LIEN
Located in Taiwan, Sheang Lien Industrial Co., Ltd., since 1997, is a bakery and kitchen equipment supplier. Their equipment has been sold in over 60 countries.
Commercial bakery and catering equipment built with CE certification and ERP, PDM, SOP management systems, including dough mixers, planetary mixers, spiral mixers, dough sheeters, deck ovens, bread slicers, rotary ovens, proofers, dough dividers, dough rounders, etc.
SHEANG LIEN has been offering customers high-quality bakery equipment & kitchen equipment, both with advanced technology and 32 years of experience, SHEANG LIEN ensures each customer's demands are met.
View our quality products
Bread Slicer
,
Upright Freezer
,
Upright Chiller
,
Workbench
,
Deck Oven
,
Dough Divider
,
Flour Shifter
,
Cooking Mixer
,
Planetary Mixer
,
Proofer
,
Rotary Oven
,
Spiral Mixer
,
Dough Moulder
,
Dough Rounder
,
Dough Sheeter
,
Deep Fryer
,
Puff Machine
,
Steamer
and feel free to
Contact Us
.
---
Hot Products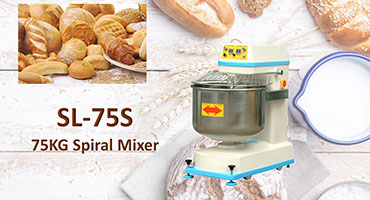 Spiral Mixer
We have brought extensive knowledge to its high quality mixers in the past 30 years.
Read More