How Challah are Made
Metric Recipe
* Bread Flour: 2.51 kg
* Granulated Sugar: 225g
* Egg Yolks: 190g
* Whole Eggs: 350g
* Butter: 190g
* Whole Milk: 850g
* Salt: 50g
* Yeast (Dry): 35g

Standard Recipe
* Bread Flour: 5 lb. 8.5 oz.
* Granulated Sugar: 8 oz.
* Egg Yolks: 6.7 oz.
* Whole Eggs: 12.34 oz.
* Butter: 6.7 oz.
* Whole Milk: 1 lb. 14 oz.
* Salt: 1.7 oz.
* Yeast (Dry): 1.23 oz.
Methodology
Mixing
This is a straight mix, add all your ingredients into a Spiral Mixer and mix for 3 minutes on low and 4 minutes on high.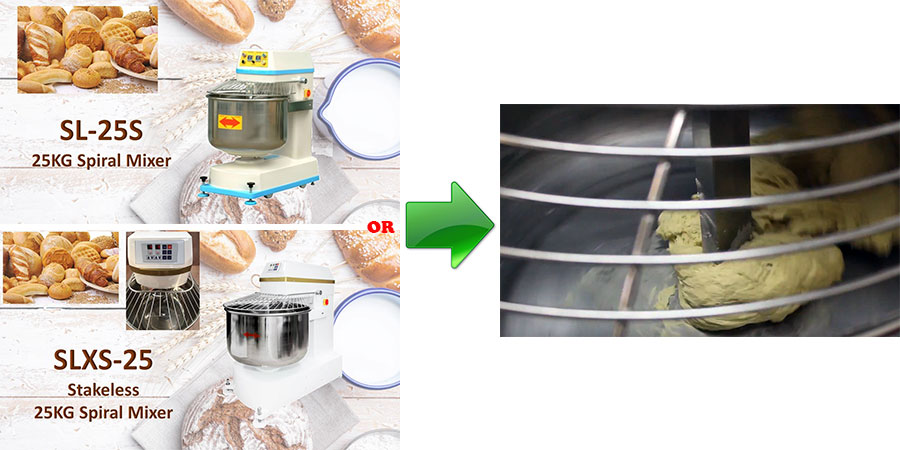 Bulk Ferment
Let dough bulk ferment for 1 hour.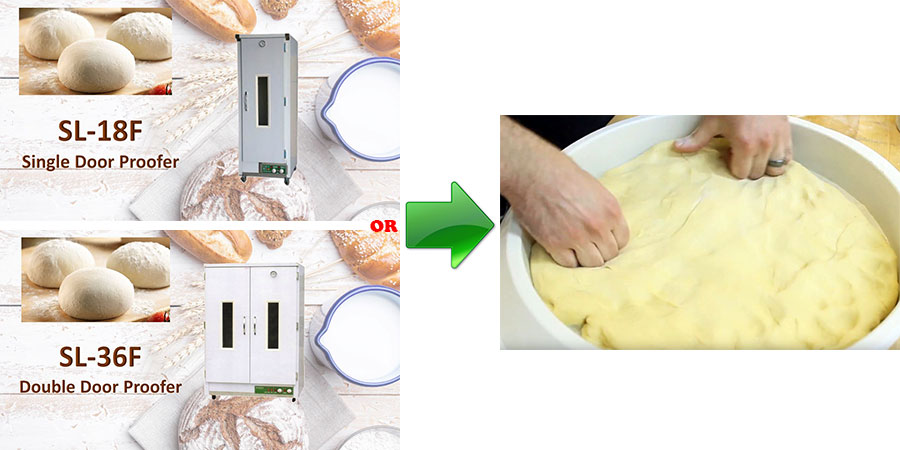 Scaling
Scale dough into 2.16kg (4 lb. 12.19 oz.) pieces.
Dividing
Divide dough into 60g (2.11 oz.) pieces either by hand or with a 36 part hand divider.

Moulding
Mould each piece of divided dough into a 22.86 cm (9 inch) strand.

Braiding
Braid 6 strands into a braided load and place on sheet pans for proofing.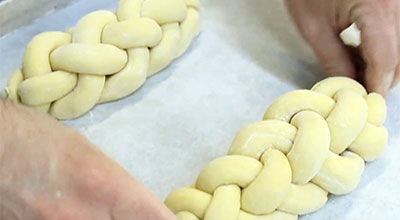 Proofing
Proof loaves until double in size. This will take approximately 1.5 hours.

Egg Wash
After proofing, be sure to egg wash each loaf.
Bake
Bake loaves at 350°F (176°C) for 20 - 25 minutes. When measured, the loaf's internal temperature should reach 195°F (90.5°C).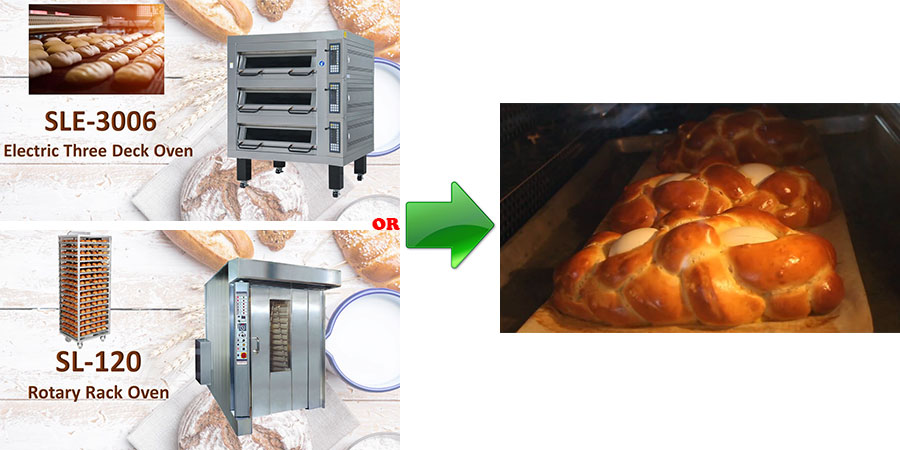 Cool & Serve
Enjoy your freshly baked Challah. Yields approximately 12 braided loaves.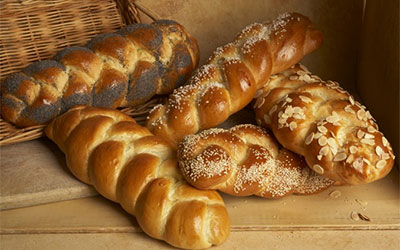 Related Products

SL-25S

---

SL-25S Spiral mixer can mix powder ball, crisp and stuff containing less than 75% water. Good for bread, bagels, pizza and gentle type French dough etc.SL-25S Spiral mixer machine has fast and slow two kinds of speed, and the mixing tube moves round left and right, to knead, rub, pinch, mix, twist, and sprain. SL-25S Spiral mixer can easily mix all kinds of powder balls within the shortest time.

---

SLXS-25

---

Sheang Lien produces various blenders to deal with the food processing. We provide high quality mixers that can widely use in bakeries, shopping malls, hotels, restaurants, supermarkets, central kitchens and factories. ● Large kneading zone for short mixing times. ● Optimum mixing process for batches of all kinds. ● Easy to operate. ● Smooth surfaces, easy to clean. ● Requires practically no maintenance.

---

SL-18F

---

The Sheang lien Proofer to provide the final fermentation product, a stable temperature and humidity bring good fermentation quality. Product surface is not dry, thin and full, ferment uniform can meet the need of the product.

---

SLE-3006

---

Complying with European union safety standards, Sheang Lien Transparent-Type Deck Oven is a high performance oven specially designed for high volume baking, pizza, and all-purpose operations. Unique in both design and technology, the oven is not only an excellent baking solution, but also its contemporary style serves as a centerpiece for today's high-end baking industry.Oven's versatility makes it suitable for a wide range of products. This modular oven is suitable for any production capacity; the number of decks can be gradually increased as your business grows. The steam produced is humid and instantaneous and the amount generated can be programmed according to the product being baked.

---

SL-120

---

Rotary Rack Oven SL-120 is a type of oven that slowly rotates bakes, breads and cookies with automatic temperature control that gives great texture and taste.

---

---
Best Sale
Over 30 Years Bakery Equipment | Kitchen Equipment Manufacturer | SHEANG LIEN
Located in Taiwan, Sheang Lien Industrial Co., Ltd., since 1997, is a bakery and kitchen equipment supplier. Their equipment has been sold in over 60 countries.
Commercial bakery and catering equipment built with CE certification and ERP, PDM, SOP management systems, including dough mixers, planetary mixers, spiral mixers, dough sheeters, deck ovens, bread slicers, rotary ovens, proofers, dough dividers, dough rounders, etc.
SHEANG LIEN has been offering customers high-quality bakery equipment & kitchen equipment, both with advanced technology and 32 years of experience, SHEANG LIEN ensures each customer's demands are met.
View our quality products
Bread Slicer
,
Upright Freezer
,
Upright Chiller
,
Workbench
,
Deck Oven
,
Dough Divider
,
Flour Shifter
,
Cooking Mixer
,
Planetary Mixer
,
Proofer
,
Rotary Oven
,
Spiral Mixer
,
Dough Moulder
,
Dough Rounder
,
Dough Sheeter
,
Deep Fryer
,
Puff Machine
,
Steamer
and feel free to
Contact Us
.
---
Hot Products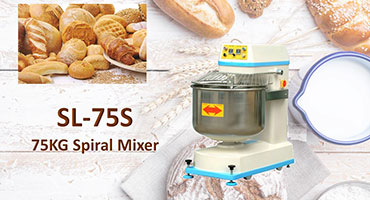 Spiral Mixer
We have brought extensive knowledge to its high quality mixers in the past 30 years.
Read More