How Brioche are Made
Metric Recipe
* Bread Flour: 2,310g
* High Gluten Flour: 690g
* Water: 290g
* Eggs: 1,470g
* Salt: 75g
* Sugar: 360g
* Yeast (Fresh): 150g
* Butter: 1,500g

Standard Recipe
* Bread Flour: 5 lb. 1.6 oz
* High Gluten Flour: 1 lb. 8.3 oz
* Water: 10.24 oz
* Eggs: 3 lb. 3.84 oz
* Salt: 2.66 oz
* Sugar: 12.64 oz
* Yeast (Fresh): 5.28 oz
* Butter: 3 lb. 4.8 oz
Methodology
Add Ingredients
Add both dry and liquid ingredients into mixer.
Mix Ingredients
Mix ingredients until dough is formed. Check to see if the dough is ready by utilizing the window method.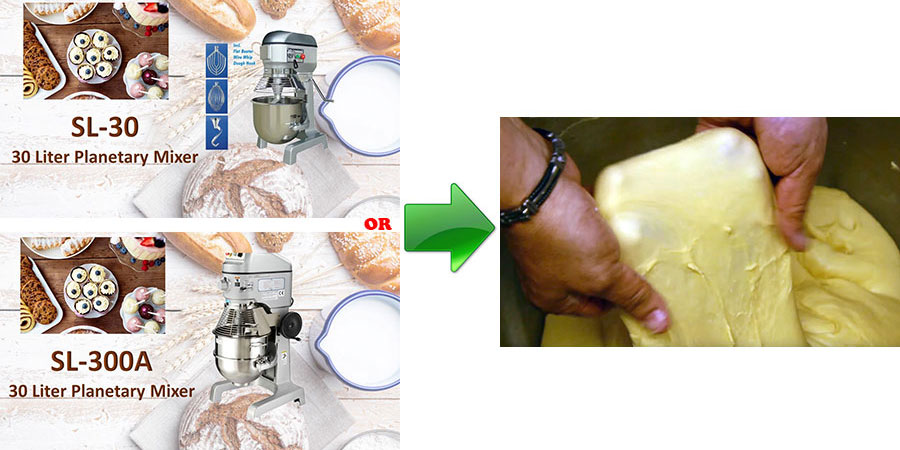 Emulsifying Butter
Emulsify butter into the dough by slowing adding dough into the running mixer. Be careful not to add too much butter at once as this may cause clumping.
Scale & Refrigerate
Scale and shape mixed dough into rounded boules than will be refrigerated overnight.
Divide & Form
Place refrigerated boule onto rounding plate, dusting with flour. Proceed to process with Divider / Rounder and mould into the desired product.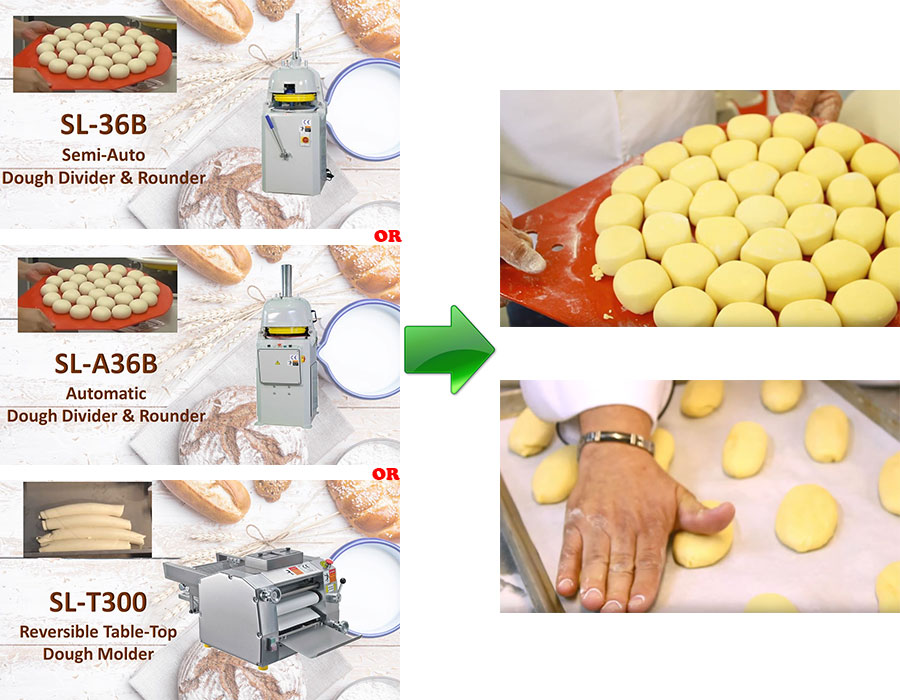 Proofing
Proof your moulded products for two hours or until dough is approximately 50% larger than the originally formed piece.

Egg Wash
Egg wash utilizing a pastry brush or Egg Spraying equipment. Be sure the entire product is evenly coated.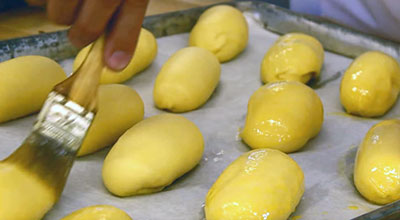 Bake
Bake in a preheated convection oven at 350°F for 12 - 15 minutes.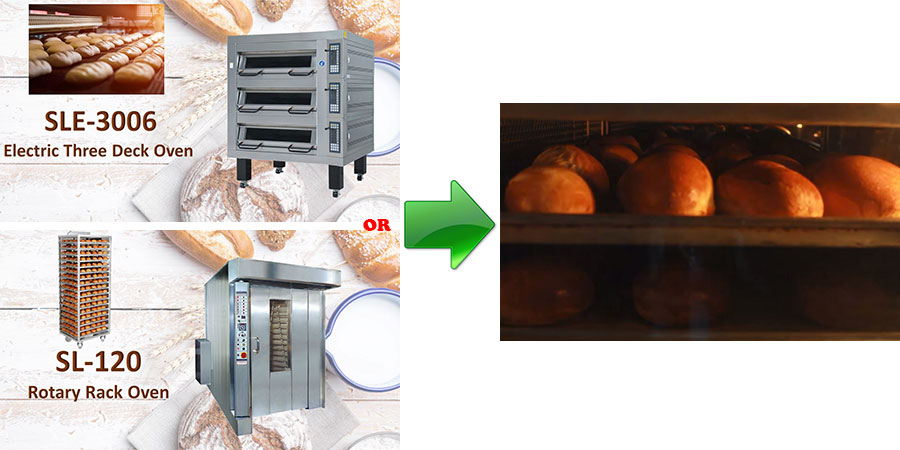 Cool & Serve
Enjoy your freshly baked Brioche!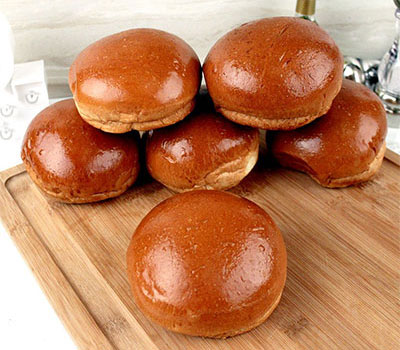 Related Products

SL-300A

---

Whip up savings with Sheang Lien's family of heavy-duty mixers. Powerful custom-built motors, gear-driven transmissions, rugged construction and dependable operation will provide you with years of reliable performance at fraction of the cost of competitive mixers. Whether a high-volume bakery or Factory, mixing delicate meringues or a tough dough, Sheang Lien Mixers give you that perfect mix - all backed by superior warranty.Durable, tough, and built to last are qualities that make Sheang Lien Mixers the best solution for your mixing needs. Sheang Lien's rigid cast iron construction ensures years of use in tough environments.Built into each mixer is the quality of workmanship and design the precision-crafted motors and gears lead to dependable operation day after day. Sheang Liens's commitment to quality protects your investment for years to come.Sheang Lien Mixers are priced to provide significant savings over other brands. A proven design plus solid construction equals years of reliability. Each Sheang Lien Mixer is backed by superior warranty.

---

SL-30

---

Sheang Lien SL-30 Planetary Mixer is ideal to produce pastry products such as creams, batters, light paste and other sophisticated desserts to mix the dough in the planets rotation direction with even and homogenous mixing performance.Planetary mixer is made from super hardened alloy steel, based on excellent die-casting technology and non-dust paint coated finish is easy cleaning. Planetary mixer's durable and quiet during running. Various types of planetary mixers are suitable for small and large productive bakeries, pastry units and other food service operations.

---

SL-36B

---

Sheang Lien Semi-Automatic Dough Divider & Rounder SL-30A, 30B, 36A, 36B offers superior rounding, durability and increase production for bakeries and factory operations. The machine divides and round dough with ease, permanent lubrication to protect transmission, machine head can be tilted for easy cleaning of knives.This allows you to create different types of roils with varying weight ranges and sizes in the same machine as well as facilitate easier cleaning and maintenance. It has 5 different types of machines with its capacity in 22pcs, 30pcs and 36pcs dough plate.

---

SL-A36B

---

Sheang Lien Fully Automatic Dough Divider Rounder is designed to divide dough and round automatically and equally. Simply insert your rounding plate with dough into the machine. It can help to save time and it is easy to operate.This allows you to create types od rolls with varying weight ranges and sized in the same machine as well as facilitate easier cleaning and maintenance.

---

SL-18F

---

The Sheang lien Proofer to provide the final fermentation product, a stable temperature and humidity bring good fermentation quality. Product surface is not dry, thin and full, ferment uniform can meet the need of the product.

---

SL-36F

---

The Sheang lien Proofer to provide the final fermentation product, a stable temperature and humidity bring good fermentation quality. Product surface is not dry, thin and full, ferment uniform can meet the need of the product.

---

SLE-3006

---

Complying with European union safety standards, Sheang Lien Transparent-Type Deck Oven is a high performance oven specially designed for high volume baking, pizza, and all-purpose operations. Unique in both design and technology, the oven is not only an excellent baking solution, but also its contemporary style serves as a centerpiece for today's high-end baking industry.Oven's versatility makes it suitable for a wide range of products. This modular oven is suitable for any production capacity; the number of decks can be gradually increased as your business grows. The steam produced is humid and instantaneous and the amount generated can be programmed according to the product being baked.

---

SL-120

---

Rotary Rack Oven SL-120 is a type of oven that slowly rotates bakes, breads and cookies with automatic temperature control that gives great texture and taste.

---

---
Best Sale
Over 30 Years Bakery Equipment | Kitchen Equipment Manufacturer | SHEANG LIEN
Located in Taiwan, Sheang Lien Industrial Co., Ltd., since 1997, is a bakery and kitchen equipment supplier. Their equipment has been sold in over 60 countries.
Commercial bakery and catering equipment built with CE certification and ERP, PDM, SOP management systems, including dough mixers, planetary mixers, spiral mixers, dough sheeters, deck ovens, bread slicers, rotary ovens, proofers, dough dividers, dough rounders, etc.
SHEANG LIEN has been offering customers high-quality bakery equipment & kitchen equipment, both with advanced technology and 32 years of experience, SHEANG LIEN ensures each customer's demands are met.
View our quality products
Bread Slicer
,
Upright Freezer
,
Upright Chiller
,
Workbench
,
Deck Oven
,
Dough Divider
,
Flour Shifter
,
Cooking Mixer
,
Planetary Mixer
,
Proofer
,
Rotary Oven
,
Spiral Mixer
,
Dough Moulder
,
Dough Rounder
,
Dough Sheeter
,
Deep Fryer
,
Puff Machine
,
Steamer
and feel free to
Contact Us
.
---
Hot Products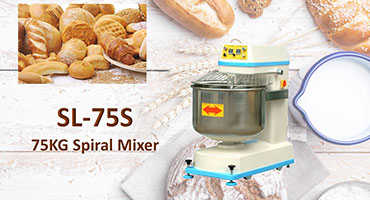 Spiral Mixer
We have brought extensive knowledge to its high quality mixers in the past 30 years.
Read More