Bakery Shop Solution
Sheang Lien's equipment can be well prepared for overall at initial period of investment, reduce the manpower demand and meet the demands of each customer. The automatic and high quality machines provide the effective control to upgrade the products quality and also increase productivity and save expenses. The main feature of our production line is capable to coordinate market demands & changing, to adjust productivity and suitable for various bread products making to achieve the goal of new business opportunity.

Customizes and tailors specific bakery with respect to planning and designing to meet the demand of each customer. Depending on the local culture, taste, and market, Sheang Lien will assist in the selection of your baking items, and production capacity. We manufacture varieties of baking equipment, and will recommend only the suitable machines to run your bakery smoothly.

Sheang Lien offers different plans for each different bakery
Individual planning based on the venue and the bread products needed

In the feedback of customers, those adopted Sheang Lien's scheme and equipment
The average number of coming customers increased 220%
Bread production costs reduced 35%
70% increase in production efficiency
Reduced staff costs 30%

Shean Lien accompanied many well-known bread and dessert shops, growing from a small, unprofessional bakery to a central factory with more than 15 stores.
In the future, we expect to accompany more owners to expand to such a scale.
Related Products

---
Best Sale
Over 30 Years Bakery Equipment | Kitchen Equipment Manufacturer | SHEANG LIEN
Located in Taiwan, Sheang Lien Industrial Co., Ltd., since 1997, is a bakery and kitchen equipment supplier. Their equipment has been sold in over 60 countries.
Commercial bakery and catering equipment built with CE certification and ERP, PDM, SOP management systems, including dough mixers, planetary mixers, spiral mixers, dough sheeters, deck ovens, bread slicers, rotary ovens, proofers, dough dividers, dough rounders, etc.
SHEANG LIEN has been offering customers high-quality bakery equipment & kitchen equipment, both with advanced technology and 32 years of experience, SHEANG LIEN ensures each customer's demands are met.
View our quality products
Bread Slicer
,
Upright Freezer
,
Upright Chiller
,
Workbench
,
Deck Oven
,
Dough Divider
,
Flour Shifter
,
Cooking Mixer
,
Planetary Mixer
,
Proofer
,
Rotary Oven
,
Spiral Mixer
,
Dough Moulder
,
Dough Rounder
,
Dough Sheeter
,
Deep Fryer
,
Puff Machine
,
Steamer
and feel free to
Contact Us
.
---
Hot Products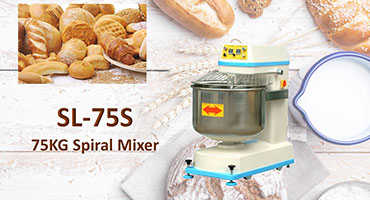 Spiral Mixer
We have brought extensive knowledge to its high quality mixers in the past 30 years.
Read More